Fr 17.11.2017
Rot-Kreuz Ball
Rathaus
39 Fotos
Zum Rot-Kreuz Ball 2017 kamen u.a. Silvia Schneider und Kristina Sprenger (beide Moderation), Bianca Speck, Kimberly Budinsky, Natalie Alison und Clemens Trischler, Ramesh Nair, Martin Leutgeb und Nhut La Hong.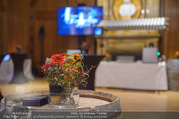 Do 16.11.2017
Signa Törggelen
Park Hyatt
230 Fotos
Rene Benko´s Signa Holding lud wieder zum traditionellen Törggelen ins Park Hyatt. Mit dabei heuer u.a. wieder Niki Lauda, Alfons Haider, DJ Ötzi, Alfred Gusenbauer, HC Strache, u.v.a.m.
Mi 15.11.2017
The Recall Kinopremiere
Millennium KinoCity
71 Fotos
Kinopremiere von The Recall mit niemand geringerem als Wesley Snipes und Laura Bilgeri am Red Carpet.
Komplett&uumlbersicht Societyfotos
---